This year, several exciting resources have emerged that help build practices and strategies for Transformative Justice and Community Accountability:

TransformHarm.org is a resource hub about ending violence. It offers an introduction to transformative justice. Created by Mariame Kaba and designed by Joseph Lublink, the site includes selected articles, audio-visual resources, curricula, and more.
The What Really Makes Us Safe? website gathers several voices and hears what they each have to say about the same general questions: What is a community after all? How do we get people to change? Where is the movement headed? Created by Melanie Brazzell.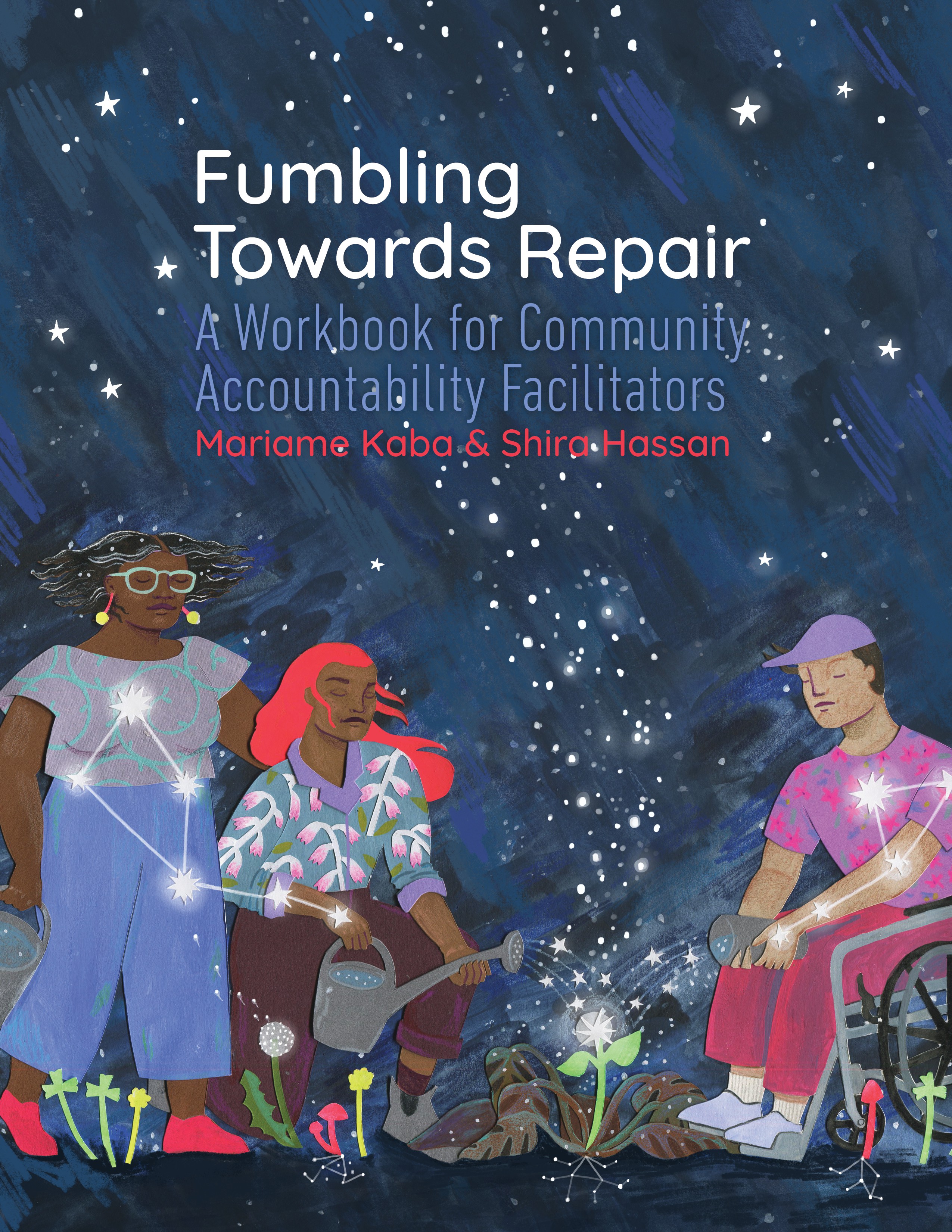 Fumbling Towards Repair is a workbook by Mariame Kaba and Shira Hassan that includes reflection questions, skill assessments, facilitation tips, helpful definitions, activities, and hard-learned lessons intended to support people who have taken on the coordination and facilitation of formal community accountability processes to address interpersonal harm & violence.
Purchase at AK Press.
Videos from the April 2019 Building Accountable Communities National Gathering. Organized by Mariame Kaba, this convening included adrienne maree brown, Leah Lakshmi Piepzna Samarasinha, Ann Russo, Amita Swahdin, Shira Hassan, Mimi Kim, and other leading anti-violence organizers.
<iframe width="560" height="315" src="https://www.youtube.com/embed/LjRbj57vBvA" frameborder="0" allow="accelerometer; autoplay; encrypted-media; gyroscope; picture-in-picture" allowfullscreen></iframe>
<iframe width="560" height="315" src="https://www.youtube.com/embed/QUhaOYD0ZWY" frameborder="0" allow="accelerometer; autoplay; encrypted-media; gyroscope; picture-in-picture" allowfullscreen></iframe>