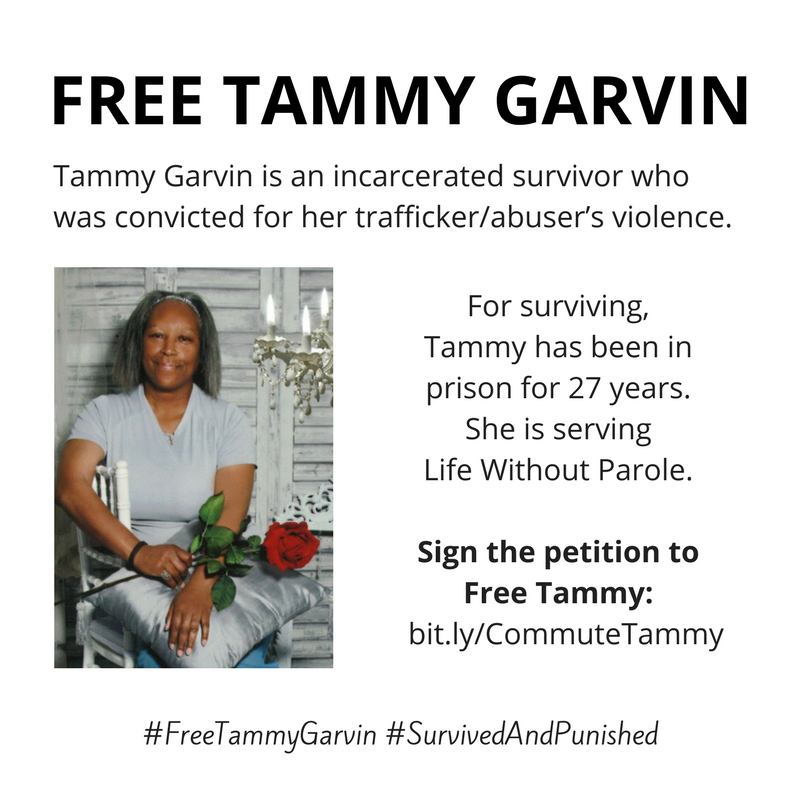 Survived and Punished calls for the freedom of all incarcerated survivors. California has increased the number of commutations for Life Without Parole sentencing, meaning fewer people are sentenced to die in prison because they have a chance at parole.  One strategy has been raising public awareness of multiple cases within the intersections of sexual, racial, domestic, and carceral violence, and organizing public support to urge the Governor to commute more sentences and free more people.
Tammy Garvin is an incarcerated survivor who was convicted for her trafficker/abuser's lethal violence. For surviving, Tammy has been in prison for 27 years already. She is serving Life Without Parole in California.
Tammy was only 14 years old when she was trafficked, and by the time she was convicted and sentenced to Life Without Parole in her 30s, she suffered from the long-term effects of severe psychological and sexual abuse.
Incarcerated survivors are leading groups to support survivors and advocate to de-criminalize survival from within the Central California Women's Facility (CCWF), the biggest women's prison in the U.S. (and likely the world).
Tammy has a real chance at clemency during Governor Brown's last year, but only if we insist on it.
Can you help us get over 100 signatures to #FreeTammyGarvin today on her 59th birthday?
Petition: bit.ly/CommuteTammy
#FreeTammyGarvin #SurvivedAndPunished