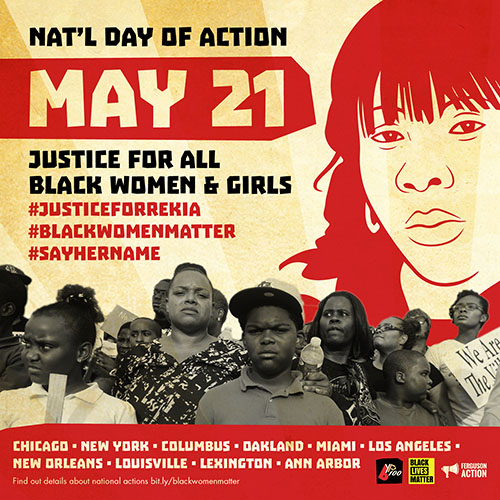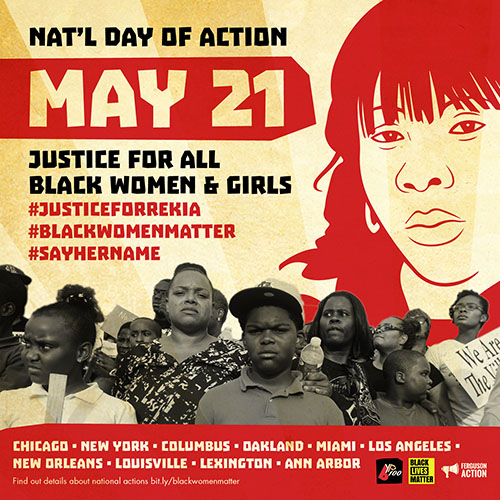 UPDATE: A regularly updated list of actions across the US can be found HERE. So far, actions are currently organized in Chicago, IL, New York, NY, Columbus, OH, Oakland, CA, Miami, FL, New Orleans, LA, Louisville, KY, Lexington, KY, Ann Arbor, MI, Indianapolis, IN, Charlotte, NC, Seattle, WA, Asheville, NC, Minneapolis, MN, Austin, TX, Nashville, TN
Black Youth Project 100, Ferguson Action, and #BlackLivesMatter have called a
National Day of Action to End State Violence Against Black Women and Girls:
THURSDAY, MAY 21, 2015
 JOIN in mourning the lives of Black women and girls lost to police violence, and in lifting up the voices, experiences and demands of Black women targeted by police!
Black women – queer and not queer, transgender and not transgender – are killed, beaten, profiled, and harassed by police across the country in many of the same ways as Black men, whether it's "broken windows policing," "driving while Black," or the "war on drugs." For example:
Racial profiling studies analyzing the experiences of Black women separately from those of men of color conclude "for both men and women there is an identical pattern of stops by race/ethnicity."

In New York City, racial disparities in stops are the same for Black women as they are for Black men: over the past 5 years, over 50% of stops of women were of Black women, and 55% of stops of men were of Black men. According to the 2010 Census, only 27% of New York City's population is Black.

Data recently released by the Missouri Attorney General's office shows that in Ferguson, MO, more Black women drivers are stopped than any other group.
Black women also experience gender and sexuality specific forms of profiling and police violence – including sexual violence and assault by police, profiling for prostitution-related offenses, and police violence against pregnant Black women and mothers. For example:
One study found that sexual assault by police is the second most commonly reported form of police misconduct.

Another found that the majority (76%) of victims of on-duty police sexual misconduct are adults, but almost a quarter (24%) of reported cases of on-duty sexual misconduct involved minors.

According to the National Transgender Discrimination Survey, 38% of Black transgender people who had interactions with police reported harassment, 14% reported physical assault, and 6% reported sexual assault.

A New York City study found that found that up to 2 in 5 young women reported sexual harassment by law enforcement.
It's time to break the silence around Black women and police violence – because #BlackWomensLivesMatter!
Join the National Day of Action!
Here are 5 things you can do in your area:
Talk to 5 friends or host a kitchen table conversation about Black women and policing – for ideas, check out this workshop:

http://bit.ly/1KSpPaK

Hold a vigil or a gathering focused on Black women in your community who have been killed or harmed by police

Conduct a "know your rights" training for Black women using this brochure:

http://bit.ly/1L7DP1h

Call your Congressperson and Senator and ask them to sponsor and pass the End Racial Profiling Act of 2015 (H.R. 1933/ S. 1056), which for the first time would ban profiling based on gender, gender identity, and sexual orientation in addition to race, national origin and religion!

Call or go to your local police department or City Council and give them a list of demands on behalf of Black women – check out the demands below!
Join the conversation on Twitter using hashtags #SayHerName #BlackWomensLivesmatter #BlackWomenMatter #AllBlackLivesMatter
Some things you can push for your local police department to do to prevent police abuse of Black women:
End "broken windows" policing practices, including laws used to criminalize homelessness and poverty

Enact and enforce a "zero tolerance" policy toward sexual harassment and assault of members of the public by police officers;

Stop profiling us! Adopt and enforce a ban on officers confiscating or using mere possession or presence of condoms as evidence of any prostitution-related offense;

Adopt and enforce a policy requiring officers to respect Black women's gender identity and expression in all police interactions, searches, and police detention and explicitly banning officers from profiling people based on gender identity or expression or searching people to assign gender;

Ensure that use of force policies clearly prohibit use of TASERs and excessive force on pregnant women or children;

Enact and enforce policies requiring police to make every effort to identify kinship care for children of parents taken into custody before contacting child protective services.
For more organizing ideas, check out INCITE!'s Organizer's Toolkit on Law Enforcement Violence Against Women of Color and Trans People of Color: http://bit.ly/1Hnbe9D
Palmcards and brochures available here: http://bit.ly/1FfoJ7L and here: http://bit.ly/1QRWG3v
Questions? Looking for more resources?
Contact Andrea Ritchie, Soros Justice Fellow at: andreajritchie@gmail.com