From US Social Forum:
PLEASE FORWARD WIDELY!!!!
We are in a critical moment where there are many forces working against us. Poverty has intensified and women, transgender and gender nonconforming people and LGBQI individuals are hit hardest. Another US is necessary. The movement for gender justice can never be successful without space to talk about how gender interacts with various forms of oppression, including race, class, sexual orientation, migration status, etc. and how people's experiences are defined by the intersection of these oppressions.  The US Social Forum is an opportunity to create a space where movements come together and try to find ways to work with each other.
This will not happen without YOU.   Too often gender justice issues are made invisible in the broader movement for social justice. Grassroots, women's and gender justice organizations are coming together to build the gender justice agenda, and you need to be part of it.  This is about developing relationships and strategies for building together after the forum.
Before the US Social Forum the Gender Justice Working Group is focusing on:
promoting an analysis that addresses the intersection of patriarchy, capitalism, nationalism, imperialism and white supremacy in all of the USSF events including plenaries and cultural events
working with the Queer Liberation Committee to coordinate efforts
creating inclusive spaces including gender neutral bathrooms
creating accountable spaces with a security presence that is respectful and responsive
providing responses to sexual assault and gender based violence that include alternatives to state intervention
Additionally, we're working to put together a Gender Justice People's Movement Assembly, which will be a participatory process to develop a political agenda that will lead to concrete actions.  For more info, please visit: http://abc.ussf2010.org/assemblies
STEPS TO GET INVOLVED:
***
Also, a People's Movement Assembly is being organized in NYC…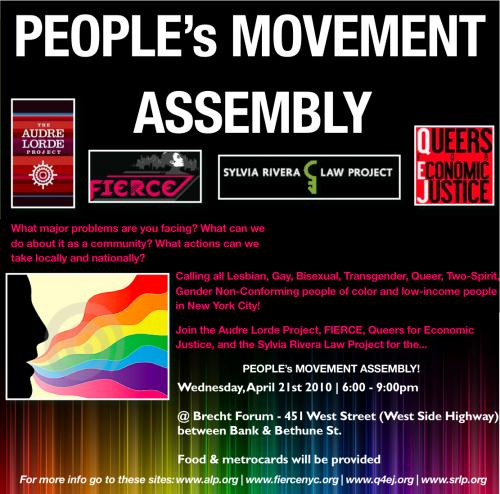 When:   Wednesday, April 21, 2010 – 6:00pm – 9:00pm
Where: Brecht Forum 451 West Street, New York, NY (Between Bank and Bethune St.)
What major problems are you facing?
What can we do about it as a community?
What actions can we take locally and nationally?

Calling all Lesbian, Gay, Bisexual, Transgender, Queer, Two-Spirit, Gender Non-Conforming people of color and low-income people in New York City!
Join the Audre Lorde Project, FIERCE!, Queers for Economic Justice, and the Sylvia Rivera Law Project for the…PEOPLE's MOVEMENT ASSEMBLY!
Food & Metrocards will be provided